Jaybill catalogues
To view our latest catalogue please click on the image below, where you will find a fantastic range of ladies shoes, mens shoes and childrens shoes from the number one wholesale footwear supplier!
Download PDF Version
JAYBILL AUTUMN / WINTER 2021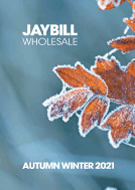 Please click here if you would prefer to download the PDF version. [4.2MB]
JOE BROWNS LOOK-BOOK AUTUMN / WINTER 2019

Please click here if you would like to download the PDF. [14.7MB]
If you wish to view any of our old catalogues, please visit the archive here.


Home | Contact Us | Privacy Policy | Site Map